VMU Will Hold Graduation Ceremonies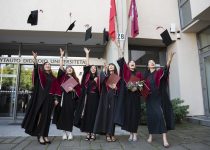 On 21-23 June, Vytautas Magnus University will be holding its graduation ceremonies, bidding farewell to the university's latest graduates.
On 21 June, diplomas will be awarded to the graduates of the faculties of Economics and Management, Law, and VMU Education Academy (in Kaunas). Additional ceremonies will also be held on the same day for the graduates of VMU Music Academy and Agriculture Academy (faculties of Agricultural Engineering, Agronomy and Forest Sciences and Ecology).
On 22 June, the university will send off alumni of the faculties of Natural Sciences, Informatics, Political Science and Diplomacy, and Catholic Theology. Additional ceremonies will also be held on the same day for the graduates of VMU Agriculture Academy (faculties of Bioeconomy Development and Water and Land Management).
On the final day, ceremonies will be dedicated to the graduates of the faculties of Social Sciences, Arts, the Humanities and VMU Education Academy in Vilnius.
Regrettably, the celebration will not be open to everyone, the way it was before. Taking into account the quarantine situation declared in the entire country due to the threat of the spread of COVID-19, to ensure the safety of the university's community and their relatives, this year VMU graduate ceremonies will be a bit different than usual.
Vytautas Magnus University's diplomas will be awarded to the graduates in VMU spaces. However, relatives and friends will be able to congratulate and take pictures with the new alumni outside. They will be able to watch the diploma award ceremony itself live at vdu.lt/graduation on their smartphones and other devices.
Due to the strict requirements of the appropriate disinfection and preparation of academic dress (gowns) for their continued safe use, we will not be able to provide them for all VMU graduates. Therefore, it has been decided that gowns will be worn only by the university's bachelor's degree graduates, who will celebrate their first-ever academic graduation ceremony.
We encourage all graduates to bring personal protective equipment. All participants of the graduation ceremony are required to wear medical masks or respirators.
We hope to see you soon at this milestone event, where everyone is filled with joy and a sense of pride after successfully completing an important stage of their lives.
Nevertheless, the graduates who are unable to attend the graduation ceremony will be able to receive their diploma at their faculty (in five workdays after the ceremony), or at the Department of Studies (after this time period ends).