Shooting in Japan by TIFO project was finished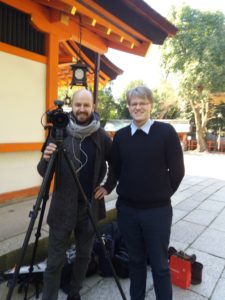 On November 28 – December 9, filming has been taking place in different locations of Japan, as a part of the ongoing project of VMU Centre for Asian Studies (CAS). During the intensive program the Head of the CAS Dr. Aurelijus Zykas, together with Kristijonas Jakubsonas, a lecturer from the VMU Department of Public Communication have visited 10 cities in Japan, where they met with the scholars and public figures, and filmed important locations, objects and documents.
'Ten days, ten cities, fourteen interviews and countless exciting moments, – the project was shortly described by its director Dr. Aurelijus Zykas, – We heard numerous interesting stories, touched documents important for both countries, and everywhere we went we met sincere and hospitable people devoted to this idea'.
The result of the project will be a documentary introducing the ties between Kaunas and Japan through four different individuals, who acted as bridges between the two countries before the Second World War. They
are: Jukichi Fukuzawa, the first Japanese who visited Lithuania, Steponas Kairys, the author of the first Lithuanian books about Japan, Matas Šalčius, a journalist who visited Japan several times, and finally, a diplomat Chiune Sugihara, who united the two countries through his deed by issuing "Visas for Life".
The filming team attracted a lot of interest in Japan. The shooting team was kindly received by municipalities of several cities, where it met city mayors and representatives. Furthermore, local press and television covered the shooting process.
The project supported by the Toshiba International Foundation (TIFO) started this Summer. Its main participants are Dr. Aurelijus Zykas, Dr. Linas Didvalis and Mr. Kristijonas Jakubsonas. The Movie "Kaunas, the City of Japan and Sugihara" is scheduled to be screened in March.