Screening of the movie about Chiune Sugihara "Persona Non Grata"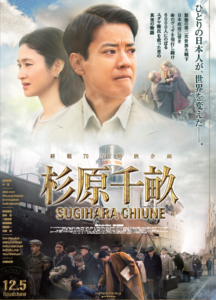 On November 23rd in VMU multifunctional science and studies center (V. Putvinskis st. 23) 106 auditorium the Center for Asian Studies together with the Embassy of Japan in Lithuania invites you to the screening of the movie about Chiune Sugihara "Persona Non Grata". Movie starts at 6:00 P.M. The event is free and open to everyone.
Chiune Sugihara was a Japanese Vice-Consul in Lithuania who lived in Kaunas (in a "Sugihara House" historical building) during the period of 1939 – 1940. While residing there, he saved thousands of Jewish people by issuing transit visas though Japan allowing them to flee from the holocaust and Nazi occupation.
The movie "Persona Non Grata" (jap. Chiune Sugihara) is based on a true story about a Japanese Consul, Chiune Sugihara, who saved 6 000 Jewish people from Nazis during World War II without regard to risk in disobeying the assignment of Japanese government.  World Premiere Screening took place in symbolic time and place –  in 2015, during the 70th Anniversary since the end of the WWII in Kaunas, where Chiune Sugihara issued visas.
The movie is directed by Cellin Gluck and features international cast, composed of Japanese, Polish, French and Russian actors. Chiune Sugihara is played by Japanese actor Toshiaki Karasawa, while Koyuki, mainly known for her part in "The Last Samurai", played Sugihara's wife. The movie is set in the period from 1934 until 1955, in Europe, Asia and North America. It was filmed entirely in Poland.