New Academic Year Begins with Eventful Week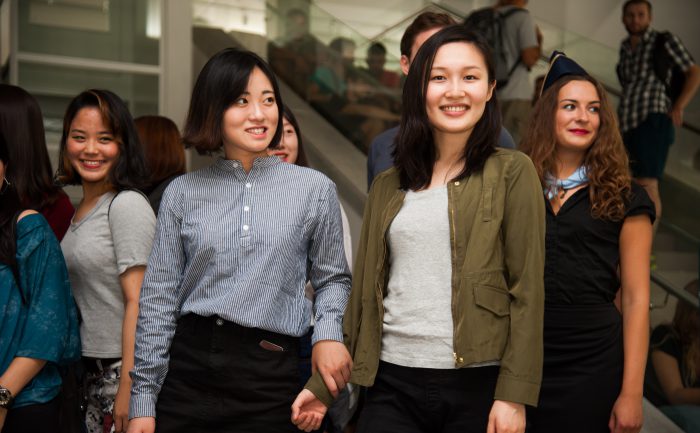 VMU is starting off the new academic year with the traditional week of introductory events dedicated to all first year students and the entire university community.
On 22 August – 2 September, VMU International Office is also holding the traditional annual Orientation Days for the incoming students. The program, as usual, includes entertaining and informative introductory events at the university. Here is a brief rundown of the week's highlights.
Thursday, on 25 August, VMU lecturer Assoc. Prof. J. D. Mininger held a lecture in the lobby of VMU Great Hall (28 S. Daukanto g.) about Artes Liberales (Liberal Arts), the time-honoured type of education hailing from the Antiquity which is reflected in VMU's study system.
Monday, on 29 August, VMU International Office and the incoming students  will hold a unique brain battle at Vero Cafe House, (7 Maironio g.).
On 30 August, cinema fans got to enjoy a movie time at the VMU Botanical garden, (6 Ž. E. Žilibero g.), everyone gathered to watch lithuanian movie The Gambler (Lošėjas). 
Thursday, on 1 September is not only the day of festivities for the entire university, but also the first day of classes for BA degree students. The international students are welcome to join in the festive parade, which will start at 2.30 p.m. from the Monument to Vytautas the Great (96 Laisvės al.). The meeting point is outside the VMU International Office's building (27 S. Daukanto g.) at 2 p.m. Please do not be late and take your country's flag if you have it with you.
The final part of the celebration will begin at 3 p.m. in the VMU Great Hall (28 S. Daukanto g.): some of its most anticipated parts will be the VMU Rector's greetings and the tasting of the big festive cake.
A major highlight of the introductory week was the VMU Introduction Party by VMU Students' Representative Council on 26 September at the "Taboo" club (12 Pilies gatvė). 
VMU Introduction week for the incoming students programme