Exhibition "Taiwan and its culture"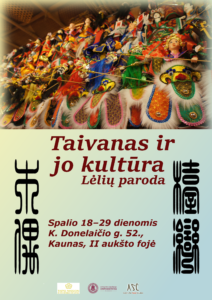 On October 18-29, in the hall next to V. Biržiška reading room (K. Donelaitis str. 52), VMU Centre for Asian studies with the help of Taipei Mission in the Republic of Latvia organize exhibition of Taiwan's dolls Taiwan and its culture.
Glove Puppetry, also known as Budai Xi, is a kind of opera which makes use of cloth puppets. Ever since it was introduced to Taiwan by Fujian immigrants in the18th century, its compact and rapid artistic performance became integrated with opera music in Taiwan, making it the most popular operatic form in Taiwan. In the former times it was divided into different types according to the background music, such as Nanguan, Beiguan, Chao-diao, and Waijiang. In the course of the twentieth century, Glove Puppetry performances have taken on many distinctive styles, enhanced by modern technology.
The exhibition not only presents puppets used in Taiwan's Glove Puppetry, but also embodies Chinese historical personalities and gods, therefore visitors of the exhibition can admire the colorful dolls and get acquainted with Taiwanese culture. Dolls representing Liu Bei, Guan Yu and Zhang Fei embodies a well-known story about A Brotherhood Forged in the Peach Garden. Heroes of the story swore to save their beloved country from the collapse. Such solidarity and righteousness have become an inspiration to the Chinese people for generations. The exhibition also presents puppets used in Ban Shian dramas dedicated to show people's gratitude for the blessings of gods.
Taiwan is a melting pot of diverse ethnic, cultural, linguistic, and religious traditions of peoples from all over China, of Taiwan's indigenous Malayo-Polynesian peoples, and of new immigrants from Southeast Asia. The result of this confluence of peoples and cultures is a cosmopolitan society that treasures freedom and ethnic and religious pluralism, respectful of tradition while exploring the unlimited potential for human development. Visitors of the country have the opportunity to witness traditional religious practices and ancient customs that have disappeared from the Chinese mainland. As a consequence, Taiwan is sometimes said to be more Chinese than China while at the same time being much more than Chinese. Those expecting stereotypical Chinese experience akin to what can be found in mainland China or Hong Kong are likely to be surprised and enchanted by the striking behavioral differences between the Taiwanese and their fellow Chinese neighbors.