Accommodation
Lithuanian Language and Culture Summer Course students have the opportunity to stay in VMU student dormitory which is conveniently located in the city center (Vytauto pr. 71, Kaunas), within walking distance of VMU.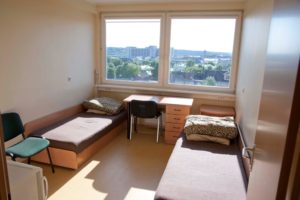 In the dormitory, students live in shared double or triple rooms (for 2 or 3 people). Usually there are two rooms in one block. Each room or block has a bathroom with a sink, a shower tub and a WC. Rooms are furnished with a table, a bed, a fridge, a wardrobe and chairs. Beddings and towels are provided. Free internet access is available in each room.
Each floor has a shared kitchen with cooking facilities. Kitchen utensils (cookware, i.e. pots, pans, etc.) are not provided. There is also a laundry-drying room in the basement, a leisure area with a TV, football and pool tables on the first floor, smoking facilities on the fourth and seventh floors, and a spectacular view of the city from the top floors. Free Wi-Fi is provided in the reading room.
Accommodation in a double or triple room in a student dormitory will cost 5 Eur / night. Alternatively, students can arrange their own accommodation.
Accommodation in VMU dormitories for other students, guest, etc. can be found here. 
Directions to VMU dormitory can be found here.