Sugihara Week Events in September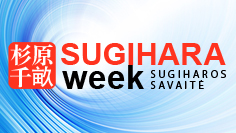 Centre for Asian Studies invites you to visit the events of Sugihara Week.
Sugihara Week, organized on September 2nd-8th, 2017 for the first time, is the event which aims to perpetuate the memory of Japanese diplomat Chiune Sugihara. This personality lived in Kaunas (Lithuania) during 1939-40 and together with Dutch Consul Jan Zvartendijk issued the famous "Visas for Life" thus saving thousands of lives of Jewish refugees.
Sugihara Week invites Lithuanian, Japanese and Jewish nations to join together in the epicentrum of the events, i.e. Kaunas, and to retell the story of Ch. Sugihara in the new light. Artists of different nations will meet together in joint projects, and scholars will discuss in the authentic spaces of Inter-War Kaunas. Together with the central topic of Ch. Sugihara, other topics, such as the visible marks of Japan in Kaunas, discourses on humanism and tolerance, aspects of Japanese culture will be presented.
In the program, musical concerts, symposium, public lectures, exhibitions, workshops, etc., are planned in various spaces of Kaunas.
Organizers and partners of the event: Kaunas City Municipality, VMU Centre for Asian Studies, Sugihara Foundation "Diplomats for Life", Embassy of Japan in Lithuania, Kyūmeikan Kendo School, Salon "Jaukūs Namai" ("Cosy Homes"), HOF Hotel, Global Japan Office of TUFS, etc.
You can find more information in the official Facebook page.